Dr. Sam Caruso graduated from Palmer College of Chiropractic, Magna Cum Laude in 1989. He established Caruso Chiropractic in 1990 after serving an as associate doctor for one year. Dr. Sam has served on the Lake Orion Boys and Girls Club board, the Lake Orion DDA board, and is a past president of the Michigan Chiropractic Association. He is a member of he ICA, MAC and ICPA. Additionally, Dr. Sam enjoys and has spoken at schools, and service organizations regarding chiropractic and health matters. He currently lives in Rochester with his wife Linda, and two children Gino and Marcella. His hobbies are golf, soccer, and gardening.
Dr. Sam is a chiropractor who serves Lake Orion and the surrounding communities in Michigan.
Dr. Sam Caruso uses chiropractic care to improve the health and wellness in all areas of patient's lives, whether they are having problems with back pain or neck pain, or just want to start feeling better when they wake up in the morning. Dr. Sam takes a "whole person" approach in chiropractic care, which means looking for the underlying causes of disease, discomfort, and pain, as opposed to just treating the symptoms. Many seemingly unrelated symptoms often arise from imbalances in the spinal column, and Dr. Sam will be able to determine the root of the pain and create a personalized chiropractic and wellness plan to suit each patient's individual needs. Under the supervision and care of our caring and skilled chiropractor, patients report higher functioning in all areas of their lives.
If you have any questions about our chiropractor, or would like to learn more about chiropractic care please call us at 248-693-4800 today!
---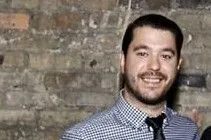 Dr. Brad Sabo has been working at Caruso Chiropractic Clinic since August of 2011. Dr. Brad was born and raised in Southeast Michigan, residing currently in Macomb Township with his wife and 4 young children.
He attended De La Salle High School in Warren, MI where Dr. Brad participated in football, baseball, hockey, and campus ministry. Following graduation Dr. Brad attended Michigan State University and graduated in 2007 with a Bachelor of Science degree in Exercise Physiology. While at MSU, he participated in many intramural sports including playing MSU Club baseball for 4 years. It was during Dr. Brad's freshman year that he found his calling for chiropractic, working/interning at a local chiropractic office in Okemos, MI. Following graduation, Dr. Brad moved down south to Atlanta, Georgia to attend Life University, where he graduated in June of 2011. He again participated in intramural athletics including basketball and softball, and was a member of many adjusting technique groups offered at Life University.
Dr. Brad is a member of the MAC (Michigan Association of Chiropractors), ICA (International Chiropractic Association), ICPA (International Chiropractic Pediatric Association), and the Life University Alumni Association. Dr. Brad spends his free time reconnecting with friends and family in Michigan, golfing, exercising, attending Michigan State athletics events, and spreading the Chiropractic message to as many people as possible.
Dr. Brad has cared for patients ranging from newborns and expectant mothers to patients in there 80-90's. His mission is "To let no spine go unchecked". He feels that the power that made the body can heal the body as long as the Nervous System is functioning at its optimal level through the removal of spinal misalignments.